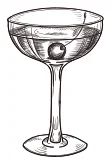 The Cold Spring – Remy VOSP Cognac sweetened with maple, lemon juice, and bitters- a perfectly unique cocktail.
Cucumber Mint Collins – Rain Cucumber Vodka, lemon juice, and simple syrup topped with Topo Chico and garnished with a cucumber ribbon, effervescent and refreshing.
Blackberry Mojito – Plantation Rum, lime juice, and blackberry syrup garnished with fresh blackberries-a fruity twist on a classic favorite.
French 75 – Waterloo No. 9 Gin chilled with lemon juice and simple syrup, and topped with champagne-this classic, refreshing cocktail packs a punch, just like the gun its named after.
Sidecar – Remy VSOP Cognac, Cointreau, and lemon juice, shaken and served up with a sugar rim- a drink that won't steer you wrong!
Old Fashioned – Templeton Rye Whiskey stirred with a dash of bitters, our house-infused, cherry-orange simple syrup, and garnished with an orange and cherry skewer. Always a good choice.
Kir Royale – This aperitif cocktail comes bubbly, topped with Chambord and garnished with fresh blackberries.
Mary Pickford – Flor De Cana Rum, pineapple juice, maraschino liqueur, and a splash of grenadine- sweet but with a real kick just like its namesake.
Blackberry Bees Knees – Smooth Ambler Bourbon, honey, and blackberry syrup topped with lemonade and garnished with fresh blackberries- our approach to a classic cocktail.
Gin Rickey – Citadelle Gin and fresh squeezed lime juice topped with soda- a refreshing, classic highball drink that dates back to the early 1900s.
Local Mule – Dripping Springs Texas Vodka and fresh squeezed lime juice topped with ginger beer- refreshing and local, what more could you ask for?
Jalapeno Honey Margarita – Azunia Organic Tequila, Cointreau, fresh juices, house-infused jalapeño honey syrup, and garnished with a jalapeño slice and lime-heat and sweet meet in this unique cocktail blend.
Dorothy Parker – Calamity Gin, St Germain, honey, fresh lemon juice, and garnished with fresh basil- a sophisticated blend of wittiness.
Apple Jack Rabbit – Christian Brothers Apple Brandy and maple syrup garnished with expressed lemon peel-a deep and intriguing blend of caramel flavors.
Alstadt Hefeweizen – 5.1%, Fredericksburg, Texas- Traditional German Wheat
Aqua-Brew Apr-Ricot Wheat– 6.9%, San Marcos, Texas- Fruit Beer
Austin East Cider Dry Original– 5.0%, Austin, Texas- Crisp, dry, smooth Cider
Freetail Soul Doubt– 6.8%, San Antonio, Texas- IPA
Karbach Crawford Bock– 4.5%, Houston, Texas- Amber Lager
Karbach Love Street– 4.9%, Kolsch-Style Blonde
Revolver Blood & Honey– 7.0%, Granbury, Texas- Wheat Ale
Shiner Bock – 4.44%, Shiner, Texas– American Style Dark Lager
Shiner Bruja's Brew – 7%, Shiner, Texas, IPA
Texas Beer Company Pecos Amber– 5.6%, Taylor, Texas–Amber Lager
Twisted X Brewing McConauhaze– 6.5%, Dripping Springs, Texas, Hazy IPA
Bud Light – 4.2%, Anheuser Busch- Light Lager
Coors Light – 4.2% Molson Coors-Light Lager
Corona Premier – 4.0%, Grupo Modelo- A low-carb, light beer
Dos Equis– 4.2%, Monterrey, Mexico- Light-bodied, Malt-flavored Lager
Kalamazoo Stout– 6%, Bell's Brewery Kalamazoo, Michigan-Stout
Lazy Magnolia Southern Pecan– 4.5%, Kiln, Mississippi- Brown Ale
Michelob Ultra– 4.2%, Anheuser Busch, Premium Light Lager
Miller Lite– 4.2%, Milwaukee, Wisconsin- Light Pilsner
Modelo Especial– 4.5%, Grupo Modelo- Pilsner Lager 
Yuengling– 4.5%, Grupo Modelo- Pilsner Lager
By the Glass • By The Bottle
Carmel Road Pinot Noir- Napa, California:
Decoy Red Blend- Central Coast California:
Line 39 Cabernet Sauvignon-California:
BV Napa Cabernet Sauvignon- Napa, California:
Torresella Pinot Grigio- Veneto, Italy
Matua Sauvignon Blanc-Venezia, Italy
Le Grand Prebois Rose- Marlborough, New Zealand
Bread & Butter Chardonnay- France:
Napa Cellars Chardonnay- Napa, California:
At Bootleggers Pizza Parlor, we welcome you to reach out. Your input is a large piece of the pie.

Bootleggers Pizza Parlor
197 S Seguin Ave
New Braunfels, TX 78130
Phone: (830) 327-1199
Hours
Sunday: 11:30 AM–9:00 PM
Monday: 11:30 AM–9:00 PM
Tuesday: 11:30 AM–9:00 PM
Wednesday: 11:30 AM–9:00 PM
Thursday: 11:30 AM–9:00 PM
Friday: 11:30 AM–10:00 PM
Saturday: 11:30 AM–10:00 PM
*Open for Take-Out and Dine-In