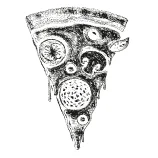 Potato Wedges – Seasoned and fried till golden brown. Served with Ranch or Ketchup
Try them loaded! – Cheese $1 Bacon $1 White Sauce $1 Pork Pastor $2
Fried Mozzarella – Breaded Mozzarella, fried until golden brown. Served with Ranch or Red Sauce
Texas Sized Wings – Celery & Ranch. Mild, Hot, Honey BBQ
$9.00 / 5 wings
$17.00 / 10 wings
Cheesy Garlic Bread – Pizza Dough brushed with Garlic Butter, Mozzarella, and Parmesan Cheese. Served with Ranch or Red Sauce
Bread Sticks – Pizza Dough brushed with Garlic Butter and baked until Golden Brown. Served with Red Sauce OR Olive Oil and Balsamic Vinegar
Arancini – Creamy Parmesan Risotto breaded and deep fried until golden brown. Served with Red Sauce
House Salad – Mixed Greens, Cherry Tomato, Red Onion, Salami, Mozzarella, Croutons, Ranch or Red Wine Vinaigrette
Antipasto – Salami, Black Olives, Pepperoni, Mozzarella, Basil, Artichoke Hearts, Cherry Tomatoes, Red Onion, Pepperoncini's, and Pasta, tossed with House Red Wine Vinaigrette
Small $7.00 / Large $11.00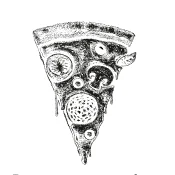 The Stock Car – Red Sauce, Mozzarella / Provolone Blend
Margherita Pizza – Red Sauce, House-Made Mozzarella, Fresh Basil, Olive Oil
Pepperoni – Pepperoni, Red Sauce, Mozzarella / Provolone Blend
Meat Head – Pepperoni, Italian Sausage, Ground Beef, Salami, Canadian Bacon, Red Sauce, Mozzarella / Provolone Blend
Supreme – Pepperoni, Italian Sausage, Red Onions, Roasted Red Bell Peppers, Black Olives, Mushrooms, Garlic, Red Sauce, Mozzarella / Provolone Blend
Blind Pig – Canadian Bacon, Roasted Pineapple, Red Onions, Red Sauce, Mozzarella / Provolone Blend
Veggie– Red Onions, Roasted Red Bell Peppers, Mushrooms, Roasted Cherry Tomatoes, Black Olives, Garlic, Basil, White OR Red Sauce, Mozzarella / Provolone Blend
White Lightning – Garlic Cream Sauce, Mozzarella / Provolone Blend, Sautéed Spinach, Caramelized Fennel – Red Onion – and Mushroom Spread, Bacon
BBQ Chicken – Herb-Roasted Chicken, Red Onion, Cilantro, BBQ Sauce, Mozzarella/Provolone Cheese Blend
Chicken Parmesan – Hand-Breaded and Fried Chicken, Fresh Basil, Red Sauce, House-Made Mozzarella, Parmesan Cheese
The Down South – Chorizo and Refried Beans, Mozzarella/Provolone Blend, Pork Pasto, Cilantro, Red Onions, Queso Cotija
Any pizza can be made with our Gluten-Free crust for a $2.00 upcharge
*Gluten-Free pizzas are only available in our small 12-inch pie
Includes Red or White Sauce and Mozzarella Cheese
12" – $10.00 + Toppings Veggies $0.75 each Meat $1.25 each
15" –$13.00 + Toppings Veggies $1.20 each Meat $2.00 each
Red Onions – Roasted Red Bell Peppers – Roasted Cherry Tomatoes – Black Olives – Artichoke Hearts – Roasted Pineapple – Fresh Basil – Garlic – Mushrooms – Fresh Jalapenos – Sautéed Spinach – Pepperoncini's – Caramelized Fennel / Red Onion / Mushroom Spread
Pepperoni – Italian Sausage – Canadian Bacon – Roasted Chicken – Fried Chicken – Salami – Bacon – Pork Pastor – Ground Beef
Creamy Pesto Chicken Pasta– Rotini pasta, herb roasted chicken breast, roasted grape tomatoes, and artichoke hearts tossed in creamy pesto sauce, and topped with Parmesan cheese.
Rotini Bolognese–Rotini pasta, seasoned ground beef, Italian sausage, Fire roasted red bell peppers, and fresh basil, tossed with marinara sauce. Topped with Parmesan cheese in our fresh house made mozzarella.
The Classic – Pepperoni, Salami, Canadian Bacon, Mixed Greens, Roasted Cherry Tomatoes, Red Onion, Pepperoncini's, Provolone, Mayo, Red Wine Vinaigrette, on a Toasted French Roll. Served with Seasoned Potato Wedges
Chicken Parmesan – Hand-Breaded and Fried Chicken, Red Sauce, House-Made Mozzarella, Fresh Basil, on a Garlic Toasted Bun. Served with Seasoned Potato Wedges
Buffalo Chicken Sandwich – Fried chicken coated in buffalo sauce, mozzarella, mixed greens, Roma tomatoes, and pickled celery with your choice of Ranch or Bleu Cheese, on a hoagie roll. Served with potato wedges. $11
*$0.50 Charge for Every To-Go Item



At Bootleggers Pizza Parlor, we welcome you to reach out. Your input is a large piece of the pie.

Bootleggers Pizza Parlor
197 S Seguin Ave
New Braunfels, TX 78130
Phone: (830) 327-1199
Hours
Sunday: 11:30 AM–9:30 PM
Monday: 11:30 AM–9:30 PM
Tuesday: 11:30 AM–9:30 PM
Wednesday: 11:30 AM–9:30 PM
Thursday: 11:30 AM–9:30 PM
Friday: 11:30 AM–10:30 PM
Saturday: 11:30 AM–10:30 PM
*Open for Take-Out and Dine-In